Film / TV
Queen Charlotte Highlights The Weight Of Being First
By now, if you haven't seen multiple performances of "I will stand with you between the Heavens and the Earth. I will tell you where you are. Do you love me," then I'm not sure where you've been. We've come to expect stellar writing out of Shonda Rhimes and Queen Charlotte doesn't fall short in this assessment either. Shonda has a particular way of sharing stories, engrossing her viewers in every nook and cranny of the fictional worlds she creates. The Bridgerton universe is no different. 
Most interestingly with this Netflix series is the depiction of the gravity of being "the first" and the responsibility that comes with it. The series oscillates between the perspectives of young and old characters, Queen Charlotte (India Ria Amarteifio & Golda Rosheuvel), King George (Corey Mylchreest & James Fleet), and Lady Danbury (Arsema Thomas & Adjoa Andoh), for the most part. For Queen Charlotte and Agatha Danbury, entering into the highest levels of English society in London marks the Crown's first earnest attempt at desegregation. Without giving away too much of the plot, the line of succession is an integral theme throughout the series.
In many ways, this relates so much to the experience of Black people and the fight for civil rights. Recall the Brown v Board Of Education case that desegregated our education system. The image of Ruby Bridges being escorted by white men represents not only a win for civil rights but how white people had to reinforce the birthright of equality for Black folks. The idea of Black people in their schools had white folks staging protests, pressed to maintain segregation. 
Imagine being the first Black student at a previously white institution. When you're the first at anything, so much scrutiny befalls you. From the way they looked to how they spoke, the first Black learners in white institutions had to contend with racist students, disdainful educators, and their education.
Queen Charlotte is reminiscent of American history
There is a weight to being the first. A responsibility. A personal burden. While the rewards of a successful mission may be high, the stakes of failing when you're first can be devastating. In Netflix's Queen Charlotte, they referred to integration as "The Great Experiment". We watch young Queen Charlotte navigate her arranged marriage and learn about a new society. All of this is important work, but also distracting at the same time. In trying to be the perfect "first', it takes Queen Charlotte longer to come into her station as Queen of England. 
This is comparable to how racism frustrates and consumes the time of Black people. In having to deal with discrimination, Black folks take longer to achieve goals that would have otherwise taken a lot less time. For years, my mother has joked that while we explain our existence and educate the world about our history or express our pain, white authors are researching and publishing stories about us. In having to explain we're losing time to simply exist. 
There's power in just 'being'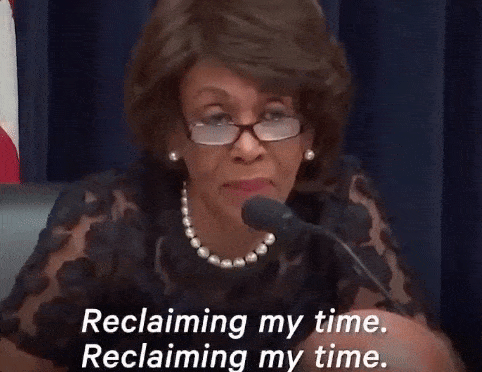 In 2017, Maxine Waters famously said "I'm reclaiming my time." In 2023, Shondaland gave us, "I'm off to be the Queen of England." Both phrases see these women occupying space unabashedly and unreservedly. As much as we'll always remember King George's "My heart calls your name" admission, remember that Queen Charlotte's determination is what made that admission possible. 
In real life, a love like that of the movies can feel far away. Nevertheless, as Black people navigating societies that would rather keep us down, we can reclaim our time every day; we can be every day. Our real life is right here, not a faraway idea. 
Get The Latest
Signup for the AFROPUNK newsletter
Film / TVFilm / TVFilm / TVMusicOpinionRace