AFROPUNK EXCLUSIVE: Ink Master Al Fliction talks tatts with "We Be Rational"
Tattooist Al Fliction has been here for years. The Brooklyn native and self-taught artist first made his mark in the art world during the golden age of graffiti. Since then he has had a successful run airbrushing Hip-Hop legends on t-shirts for his clothing line, Air Wear NYC. He is the owner of Skin & Ink Gallery in Brooklyn, NY and the traveling Tattoo Express RV. He is also the founder and executive director of the URBAN Tattoo Convention (UTC), former host on the legendary show "Video Music Box" and is the current host of Urban Ink Live Radio. Recently, he is most recognized as a contestant on the first season of Spike TV's: Ink Masters. Fliction is a gladiator at his core, a father of three and proud grandfather of one; his story proves that longevity in the tattoo industry is possible.
By: Stephanie "PhaFa" Roy, AFROPUNK Contributor
AL FLICTION:
SHOP & Address: Skin & Ink Gallery – 1626 Bedford Ave. Brooklyn, NY 11225
Years tattooing: 15 years
Number of tattoos: Never Counted
As a hybrid of two artistically enriched cultures, Haiti and Puerto Rico, Al Fliction's knack for art may have been hereditary. His mother always boasted about his talent and showed off his drawings to friends and family. However, Al's talent revealed itself in kindergarten when his teacher, Ms. Sewer, asked the class to draw anything. After drawing a horse that blew her away, he knew that becoming an artist was his destiny. "I liked the validation that I got from Ms. Sewer and the rest of the class, that's when I decided to keep creating."
Although Al was never trained in fine arts that didn't stop him from experimenting with different mediums and styles, fortunately for him the artistic revolution of the1980's occurred. The buildings and subways in New York City became the canvases for the graffiti boom. "We use to go in the dark tunnels and bomb the walls, we wouldn't see the final product 'til the trains left the station."
 Fliction's popularity in the graffiti world eventually led him to airbrushing on t-shirts for the iconic film Beat Street, 1984. Unfortunately, in between building his reputation as a graffiti and tattoo artist, Al got into some trouble with the law and was incarcerated in 1993. A time in which the tattoo scene in NYC was an illegal underground subculture that only consisted of Caucasian affiliates. "Before prison I was interested in tattooing, but I couldn't even fathom it 'cause they (the industry) were fuckin' racist."
Prison was no different; it was also and continues to be an underground society dominated by specific cultures but Al brought his artistic skill and savvy business methods to light during his six-year sentence. He began by drawing sketches for inmates, outlining the image in pen and shading in pencil so that the tattoo could have a clear blueprint to work with. Al's reputation grew because of his sketches and he slowly became more amiable with people that knew the main tattooist. "Probably about a year after being in prison I met my first unofficial tattoo teacher, his name was Red. Ironically, he was a white guy with red hair." Red taught him how to make the tattoo machine and the amount of pressure to apply to the skin during a session. Before Red's release, he made Al tattoo roses and thorns on his shoulder.
During Fliction's last few years of incarceration, he learned black & grey tattooing from Mexican artists and he taught a painting class specializing in portraits. Two years after tattooing was legalized in NYC in 1999, Al was released from prison. "When I came home I knew I wanted to open a shop and continue tattooing. By that time the tattoo industry changed but it was still hard as a person of color to find an apprenticeship. Then I remembered a guy I met in prison named James Haft, he had a tattoo shop on Jamaica Ave in Queens. When I found him, he gave me a crash course in tattooing in a week. It was fuckin' difficult learning how to work with a real tattoo machine versus the ones we made in prison. Real tattoo machines are much heavier, it rattles and it's loud."
Within the year Al was released from prison he received his tattoo license and opened first tattoo shop in the neighborhood he grew up in, Park Slope, Brooklyn and named it Celeb's Salon. He came up with the concept while incarcerated, it was a barbershop and tattoo parlor that had photos of celebrities hanging on all of the walls. The salon only lasted one year because he violated parole after leaving the state to host Video Music Box for Memorial Day weekend in Miami; Al was sentenced to five months in prison. Upon his release in 2000 Al started tattooing again, collaborating First Glance Hair Salon in Crown Heights, Brooklyn where he had his tattoo studio in the back. It was then he partnered with his long time friend Ralph McDaniels who at the time owned the clothing store, UncleRalph's Urban Gear. This served as a platform for his clothing line Air Wear NYC. Instead ofcovering up New York City walls Al was air-brushing images of deceased Hip-Hop legends like Biggie Smalls, Tupac, and Big Pun on t-shirts. . As the popularity of the shirts amplified heexpanded the images to platinum selling artists in the Hip-Hop community and iconic athletes.
Then when Uncle Ralph's Urban Gear closed in 2001 Al took over the former clothing store and opened Al's Tattoo City. With the success of the t-shirts and the new shop Al officially launched his own clothing line "Air Wear NYC" by 2003. This gave him an opprtunityto travel the world and participate in trade shows around the nation. It was during this time Fliction decided to leave the tattoo industry. " I felt like the tattoo world was stagnant, people only wanted flash tattoo's, there was no real art in tattoo's like there is today."
After three strong years of running Al's Tattoo City, he closed shop and went on a fouryear hiatus to focus on his clothing line, traveling and he even taught air brushing at the Fashion Institute of Technology for a semester. It was during this break that he started to see the change that was happening in the tattoo industry. Television shows like Miami Ink, LA Ink and Inked were becoming household names. Tattoo shops were being renovated to look more like art galleries and clients were beginning to request tattoos that were masterpieces. "The fashion thing was dying down and the tattoo world was changing from a subculture to mainstream and I saw that as an opportunity to challenge myself. I loved that more black people were starting to incorporate our history into their designs like pyramids and African symbols. So, I bought a RV and turned that into a shop and called it the Tattoo Express, so that I can go to tattoo conventions and travel some more."
By 2008 Al decided to come back full blast into the tattoo industry. Along with the Tattoo Express RV, Fliction opened new shop that is back on the same block Al's Tattoo City was on four years prior to his hiatus. After a few name changes like BKLYN Ink, and Empire Tattoo Company, Al has finally settled with Skin & Ink Gallery. As the buzz surrounding Al's RV was spreading within the urban community and tattoo scene, he was in contacted in 2009 by Urban Ink magazine's editor and chief Paul Gambino to do a story about the Tattoo Express. It was during that meeting that they both discovered that they wanted to see more tattooist of color working together in a convention of their own.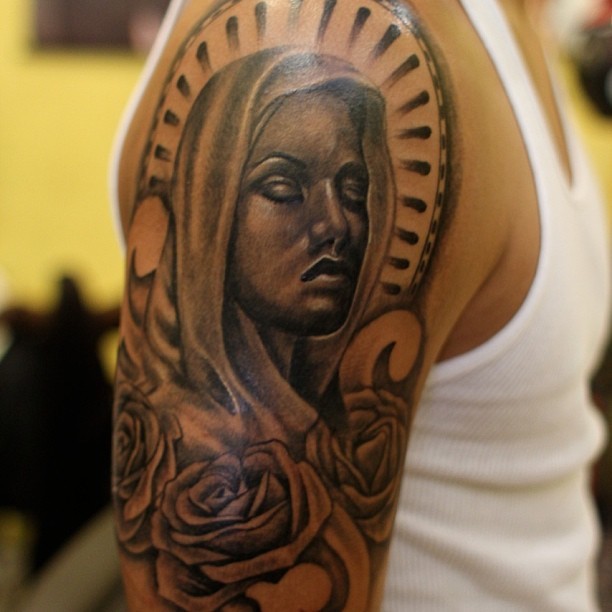 "Once I started doing the conventions I saw that I was the only tattoo artist of color at these events. I was fuckin' uncomfortable. So, I asked Paul if I put together a convention and invite urban tattooists, would he support? And he was like, hell yeah! A year later in 2010 I put together the first annual URBAN Tattoo Convention at club Amnesia NYC because they were the only venue at the time that would accept this type of event."
After the second convention was held in 2011, producers from Spike TV contacted Al to be a contestant in the first season of Ink Masters. Once he arrived on the set, Al realized that he along with fellow contestant Brian "B-Tat" Robinson were set-up for disaster because they were casted with other tattoo artists that had years of experience in winning competitions all over the world. "We were like the sacrificial lambs of the urban tattoo community. We knew that they were going to get rid of us early but they wanted to show everyone that it's a diverse cast.
When they finally edited the show, of course I was portrayed to look like the "asshole", which made me a lot of enemies in the tattoo world." Since the airing of Ink Masters, Al has managed to utilize the publicity from the show positively. He used it as a tool to meet more tattoo artists and invite them to U.R.B.A.N Tattoo Convention (UTC), form business relationships and strengthen the urban tattoo community. U.R.B.A.N, which stands for Unity Running Beyond All Nations, is the perfect acronym for a tattoo convention representing the largest ensemble of tattooists from the African Diaspora, Latin American, Asian and Caucasian cultures. Come out June 28-30th the Forth-Annual URBAN Tattoo Convention at Bush Terminal in Brooklyn, NY.
He is Al Fliction get to know him!
Facebook: al.fliction
Instagram & Twitter: @al_fliction
Website(s): nycurbantattooconvention.com & alfliction.com
By: Stephanie "PhaFa" Roy AFROPUNK Contributor
Instagram: @phafanapanipi
We Be Rational
We Be Rational is a blog series created by artivist, Stephanie "PhaFa" Roy for the AfroPunk community. Its purpose is to generate a narrative for tattooists, fine artists, designers and art enthusiasts whose stories have yet to be told.